Price and ordering information...

Note: Resources purchased in Ontario are subject to Ontario's 13% HST

How to order:

Place your order simply by eMailing Pete and Sus at <peterbowers1@mac.com>

Teaching How the Written Word Works    $36 CAD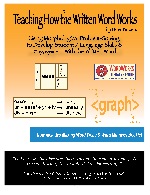 This book gives background for lessons that walk the teacher/tutor through investigations of the conventions for the three suffixing conventions, working with the matrix and word sum, working with the interrelation between morphology, etymology and phonology. The goal is that teachers can use this book to act as scientists to make sense of the ordered meaning-based structure of English orthography as they teacher their students. Each lesson point to themes from the on-line Real Spelling Tool Box 2 (available by subscription) which expand on the concepts addressed in my book.

Shipping Costs (In CAN):

$10 within  CAN

$17 to the US

$30 outside CAN/US

These lessons are based on those in the Gr. 4/5 intervention study (Bowers & Kirby, 2010) that introduced the term "structured word inquiry" to describe the use of scientific inquiry of the written word as a means of literacy instruction.

I encourage teachers of any grade to treat the book as their own personal "textbook" for studying English spelling first. Do the investigations yourself and then choose when and how to bring into your classroom.

Note: Prices for printing and shipping skyrocketed this past year. I waited until new year 2023 to raise my prices to match.