WordWorks integrates Structured Word Inquiry with Understanding by Design & the PYP

The PYP and Understanding by Design provide a framework for curriculum of many of the international schools I am working with. Clearly the philosophy of inquiry links those frameworks and the instruction supported by WordWorks.

I have been particularly impressed by the way I saw Understanding by Design help teachers frame their instruction with explicit focus the deeper underlying understandings supported by lessons in any content area. Schools with that instructional framework in place are quick to see that the target of a structured word inquiry lesson using Real Spelling is not the spelling of the word studied. Instead words are investigated to develop (a) enduring understandings about how the English spelling system represents meaning, and (b) strategies for effective problem-solving of any ordered system.

The lesson I am making available for you to download proved to be productive for illustrating these deeper learning goals of structured word inquiry with each audience (student and teacher) that used it. Read on to see some examples of spelling questions and discoveries sparked by just one spelling lesson and related enduring understandings or "big ideas" this investigation sparked.

A Lesson investigating <imagine> and its family members with the Word Searcher: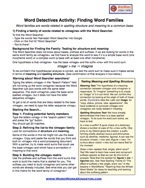 I prepared this lesson first for middle school children at the school I visited in Sumatra. It provides information and steps to investigate the structure and meaning of the word <imagine>. Click image to the right for a pdf of the document. The students there did an amazing job working through spelling-meaning structure problems that I had planned, but they also identified important questions I had not considered. For example, questions of students lead to investigations in dictionaries that taught me about the suffix <-cy> that I had not considered before. A question about the <-ine> suffix introduced me to the fact this suffix has at least four distinct uses, including marking feminine nouns (think of the word <heroine>!).  As usual a planned "teacher-led inquiry" sparked fruitful "inquiry-led teaching."
See this link for more on the distinction between teacher-led inquiry and inquiry-led teaching.


Go to the bottom of this page to see how the inquiry-led teaching with the middle school in Sumatra resulted in our identifying a prefix <su-> which in turn resulted in Melvyn Ramsden revising his prefix chart!

After using an inquiry-led teaching opportunity to learn about these new features of English

spelling with the help of the middle school students in Sumatra, I was able to target some of

those concepts on purpose in subsequent uses of this lesson (back to teacher-led inquiry).

You can see images of those lessons with Grade 5 students at ASD in Qatar, teachers at Riffa

Views International School in Bahrain, and then with 60 elementary teachers at the International

School of Beijing. A video from one of these sessions is posted here, and more are more are

on their way!

A peek at some the lesson and the learning it generated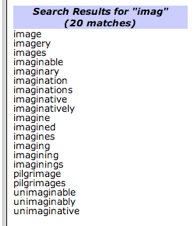 After working through and testing a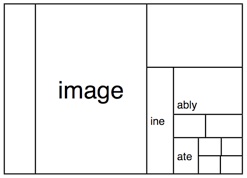 hypothesis for a word sum of <imagine>, this lesson helps you use the Word Searcher to look for a family of potentially related words (see left).
After testing connections of structure and meaning, groups of learners first eliminates unrelated words, then problem-solves ways to represent all the related words on the "starter matrix" provided (on right).

Enduring understandings gained by studying a word and its relatives: